O nás
Vítejte na stránkách našeho eshopu Discusfood Velkoobchod a Maloobchod

Zabýváme se prodejem vysoce kvalitních výrobků pro chovatele značek DiscusFood a SZAT Clear Water a současně jsme jejich výhradními dovozci a distributoři pro Českou a Slovenskou Republiku. DiscusFood krmivo bylo speciálně vyvinuty na základě zkušeností od nejlepších chovatelů a podrobený laboratorním testům. Toto krmivo Vám proto zajistí, že Vaše ryby porostou pořádně a jejich barva bude plně intenzivní. Suroviny které jsou použity pro terčovce doporučuje Tony Tan'a, jeden z nejznámějších chovatelů na světě, který se svými rybami vyhrál mnoho turnajů a šampionátů. Krmivo je vyráběno v Německu, což je další záruka kvality.Krmivo je jako jediné vyráběno při 60 stupních a tím je zajištěno že v krmivu zůstávají veškeré vitamíny a minerální látky.Dále také nabízíme odchov a dovoz terčovců a ostatních věcí zaměřené pro terčovce.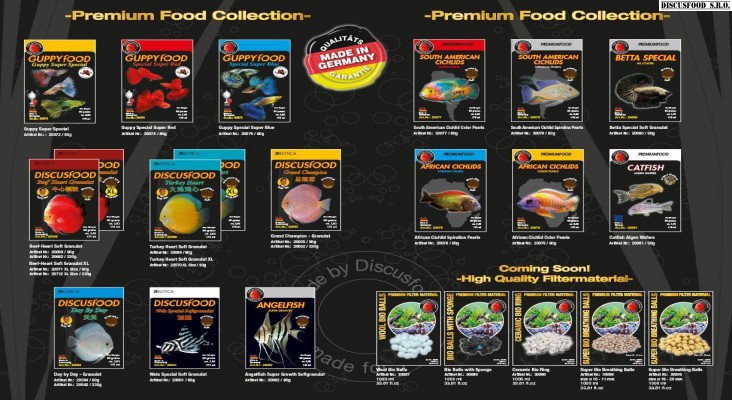 SZAT CLEAR WATER pro sladkovodní a mořská akvária.

SZAT CLEAR WATER pro sladkovodní a mořská akvária. Náš produkt je prvním představitelem nové generace filtračních materiálu.Funguje na bázi iontové výměny, která zbavuje akvarijní vodu NO3, které vznikají rozkladem dentritu, zbytků krmiv a odumřelých částí rostlin. Tyto látky jsou nebezpečné pro ryby. Rostliny ale NO3 potřebují k růstu. Proto je třeba si vybrat správný druh Clear Water. Pokud máte akvárium bez rostlin nebo jen minimum, zvolte Clear Water original. V případě rostlinného akvária vyberte Clear Water plants, který udržuje obsah NO3 na hodnotě 20-30mlg na litr vody co je ideální pro růst rastlin.Před prvním použitím a po regeneraci doporučujeme clear water důkladně propláchnout pod tekoucí vodou.Podla výrobce Clear Water vydrží až 300 cyklů regenerace, časový interval mezi regeneracemi je 2-3 měsíce podle zatížení Vašeho akvária. Pozor na trhu se mohou objevit levné napodobeniny tohoto výrobku (levné produkty jako je anex) kupujte pouze u ověřených prodejců. Pokud řešíte řasy v jezírku na takovou věc máme Clear Water Pound novinka, která vám odstraní řasy a budete mít křišťálovou vodu.
English Manual Szat Clear water
Szat Clear Water Original Fish, during their metabolism, contaminate water with harmful substances, which are present as very poisonous ammonium ions (NH4+) after the aquarium is set up. This is the most poisonous form, which turns into nitrite (NO2) by the end of the first week as a result of Nitrosomonases, useful nitrifying organisms, which form an invisible living film on the surfaces of the aquarium. By the end of the next week it turns into less harmful nitrate (NO3) as a result of the activities of Nitrobacters. It is an oxygenated compound, which does not dissolve any further in the oxygen rich environment and therefore gets accumulated. In an aquarium existing at least for two weeks and having filter surface big enough, no harmful amount of ammonium and nitrite can be detected. However, the amount of nitrate grows continuously. Nitrate, like other substances of nitrogen content, block red blood cells delivering oxygen when getting into the blood steam of fish. Despite the appropriate level of oxygen, our fish die while producing asphyxiating symptoms. This process is boosted by the fact that there is much less dissolved oxygen in aquariums with water warmer than 20 degrees Celsius than in colder water. The destroying effect of nitrate follows some hours after feeding the fish when the need for oxygen increases during digestion, and it is indicated by the whitening lamellas of gills. In this case the reason of death is an autin oxidation of cells resulting from the high ammonium content of blood. Too much nitrogen is also harmful for the plants, as it is shown by the yellowing leaves. A part of the nitrate is processed by the plants, but a frequent change water is often necessary because the density of fish is higher than natural. This is time consuming and may cause stress with the fish. The surfactant components of Szat Clear Water Original bind poisonous nitrates and facilitate the decomposition of poisonous hydrogen sulphide. It makes water crystal clear and our plants will grow better as a result of better light conditions. Joining the nitrogen circulation, it relieves the biological filter and stabilises the bio system of the aquarium. With its help, changing water can be deferred until the brownish yellow discolouration occurs as a result of harmful materials in the water of the aquarium. In this case its surface gets impregnated, but after being soaked in a solution of 1 kg of salt in 10 litres of water (or 100 grams of salt/1 litre of water) and washed through some times in lukewarm water, it works for a long time again. A more concentrated solution regenerates better. Small grained, well solving salt is perfect, even it is iodized. This product is especially recommended for the in-built aquariums of restaurants and hotels, where changing water is hard to solve and the continuously transparent, crystal clear water is an advantage. This material simplifies the maintenance of aquariums to a great extent. As for breeders, this product is very advantageous because of the high costs of water and in the case of breeding fish species which are especially sensitive of nitrate (discus fish, small perch, labyrinth fish, spawning carps), and viviparous carps and goldfish improved by men, which a lower number of wild genes. It ensures 25 mg/litre nitrate for the growth of plants, which does not disturb the growth of fish. How to use With internal filters, insert it between the glass and sponge or in the place of the sponge. With external filters, put it into one of the filter holding boxes. It can also be hidden behind a stone. It is practical to be used after the use of pre filter. The product can be applied continuously or at times. It does not damage if the filter material dries out. It does not emit any dangerous substance!